When a company that specialises in video technology makes a video about themselves and their own technology, it's really, really difficult!
Sure, we have a brilliantly versatile video collaboration platform at our disposal (and having an unlimited Aframe account sure made things a lot easier when it came to accessing media, collaborating and generally organising the surprising amount of footage we generated!).
But when you're making a film that is designed to impress the world's most prestigious exponents of the moving image, you feel the pressure! Are we using a good enough camera, will our shot selection be laughed at, will our edit decisions raise titters amongst the host of award winning post production professionals?!
With these doubts in mind and a fierce determination that we should create the very best piece of promotional video we could, meant that the phrase 'high production value' was very high on everybody's wish list.
As part of this we also wanted to show just how far Aframe can be pushed technically, so from the start we knew we wanted to shoot in 4K.
Fortunately, we are blessed with our very own in-house, leading man. Aframe Founder & CEO David counts 'former actor' on his employment history and despite not treading the boards for a number of years, his professional acting training soon kicked into life when he arrived on set.
We are also blessed with some marvellous scenery around our central Soho location in London – the traditional heart of the Film and TV scene.
In development we were determined not to create a standard promo. The aim was to educate viewers about Aframe in the most entertaining – and hopefully innovative – way possible. After creating a script, we teamed up with acclaimed film maker Alex Anstey – most recently recognised for his creativity on Les Misérables and The Chronicles of Narnia.
Shooting at 1:85:1 and cropping to 2:35:1 on Sony's new FS7 camera in 4K XAVC, and on the F65 in 4K RAW, we knew we'd get the look we needed, but to achieve the feel of moving through the streets of London, not to mention an ambitious 1 minute 10 second long single take shot through the studio, we'd need a top DOP. Up stepped Gerry Vasbenter, most well known as the steadicam operator on the Lord of The Rings Trilogy. Our Producer Liane Escorza then assembled an experienced crew from some of the best features of recent times. Finally, knowing how much the atmosphere was going to make or break the piece, sound designer Nigel Mills, known for Gosford Park, Sahara and more, came in to provide the finishing touches.
Shot over two days in January, including a bitterly cold day on the streets, all the footage was uploaded into Aframe where it was reviewed, discussed and organised, before being delivered for the edit. Alex and David, working together crafted the cut with Aframe a constant presence – meaning they only met twice during the whole process – once for final tweaks and for the grade.
Many Aframe staff were also able to take part. It was very interesting for everyone to see how a live professional video production comes together, but also being directly involved as extras!
Don't forget to tweet @davidpeto, @alexanstey, @aframehq your comments on twitter: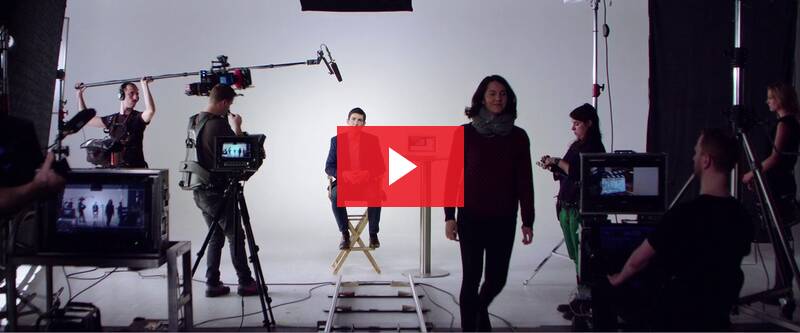 ---
Credits:
David Peto as Himself
Rob Taylor as Runner #1 (0:54)
Ali Barfoot as Runner #2 (1:15)
Rory McVicar as Runner #3 (1:20)
Michal Lech, Vicky Roussou, Jose Riarola as Production staff
Kerry Freeman and Stuart Newton as Standing Production staff (2:17)
Simon Gannon and Trevor Rawlings as Camera Dolly operators (2:28)
Thanks also to Clean Cut Media for the use of their ATP World Tour Uncovered footage in the opening sequence.
---
Technical Specs:
Sony PXW-FS7 4K
Sony XAVC codec
Sony F65 CineAlta 4K
Sony SR codec
4K Slog3
23.98fps
172.8º< shutter angle
800iso/640iso
5500ºK/4300
Samyang T1.5 prime lens'
Cooke 18-100 zoom
Schneider Blackfrost Diffusion Filters
---