Last week the Aframe teams from both sides of the Atlantic packed their bags for the broadcast industry's biggest annual event, the NAB Show.
In what was now our fourth appearance exhibiting at the show, there was a general sense of excitement when we arrived in Las Vegas. With our largest ever booth, some incredible product announcements and a "big frickin' A", NAB 2015 was surely a true reflection of the astonishing growth we've seen as a business over the last 12 months.
Spring 2015
With new features for review and approval, extended clip search, a simplified user experience, enterprise team management and extended file format support, the Spring 2015 release enables more efficient, accessible, cost effective management of video and production assets.
Demonstrations live on the show floor gave visitors to NAB the chance to get hands on experience of our brand new features as well as seeing the power of the rest of the platform. If you weren't at NAB or didn't get a chance to visit our booth, you can see a recording from our theatre below:
True Cloud Editing
Announced at NAB 2015, 'Adobe Anywhere in the Cloud Delivered by Aframe' created an astonishing buzz and seemed to resonate as a truly groundbreaking advancement in post-production. During the show, visitors to the Aframe booth were able to see demonstrations of a full broadcast-quality no download edit in Adobe Premiere Pro, on media stored in servers over 2,500 miles away. Thanks to this unique collaboration between Adobe Anywhere and Aframe, television broadcasters and content producers are now able to remove the limitations of location-specific editing and make global productions with distributed teams a reality. Find out more about Adobe Anywhere in the Cloud Delivered by Aframe, or watch the demo from the show floor: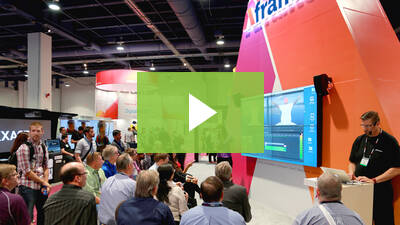 More From the Show Floor
As well as live demonstrations on the Aframe booth, we were busy conducting interviews, partner demonstrations and giving conference talks. Check out some of the other things we got up to at the show:
IABM
Broadcast Beat Magazine
NAB Show Buzz 
 Broadcast Beat – Storage, Workflow and Security